Ian McNeill
1:2 ratio or 1:1 all week
Rock Climbing courses and Instruction in Snowdonia North Wales
Experience the fastest growing sport of rock climbing in safe hands, acquire new skills or update old.
Only highly experienced and qualified Mountain Instructors will deliver some of the best and exciting adventure breaks through out Snowdonia.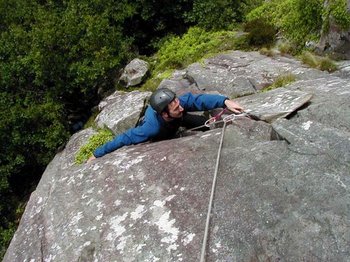 Or Simply tick off classic rock climbs of Snowdonia and Anglesey with two highly qualified and experienced rock climbers , who are passionate about their rock climbing.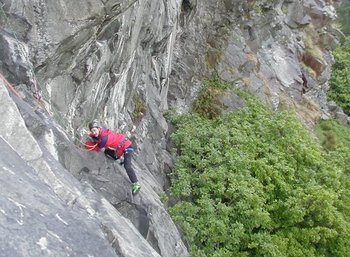 A typical week's rock climbing course in Snowdonia we will be climbing mainly on multi-pitch climbing routes throughout Snowdonia and North Wales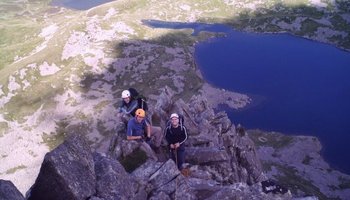 We will concentrate on rope work, belaying, use of the single and double rope system, improvised rescue, modern protection gear, abseil techniques for evacuating a crag, guidebooks and also coaching to improve personal performance.The emphasis during this course will be to give you all the skills and experience you will need, so you can progress forward to enjoy leading multi-pitch routes in the future.
With over 20 years experience of working in outdoor education centres, including 'White Hall' Derbyshire LEA in the mid to late 1980's - see 'climbing lessons' by Pete McDonald for some back ground on this period at the centre. After this foundation I moved to 'Arthog', which is Telford and Wrekins LEA centre in Gwynedd, for a varied and different relationship for the last 16 years.
More recently I worked for the Joint Services Mountaineering Training centre Indifatagable on Anglsey delivering mountaineering (Summer ML)and rock climbing training (SPA) and assessment courses.
Ian has introduced may people to the sport of rock climbing.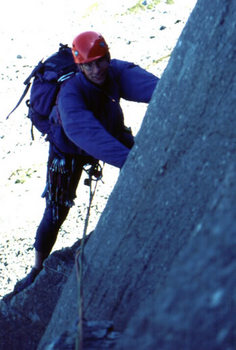 Nothing Ventured, Nothing Gained !
Ian McNeill Statistics: 342 click throughs, 15662 views since start of 2022
Biking,Climbing,Educational,Mountain Activities,Walking

in

Dyffryn Ardudwy

,

Snowdonia
Tariff

£140 per day 1:1 Rock Climbing
£160 1:4 hillwalking navigation

When?

Year round

Contact Details

Check availability and book online

Ian McNeill

Manager/ Contact Person: Ian McNeill

Tyn Ffynnon

Dyffryn Ardudwy

Gwynedd

ll442ep

UK.

Our Website

News & Special Offers

Beginners Rock climbing course in Snowdonia
An introduction to climbing outdoors, for those with a little (improver's rock climbing) or no previous climbing experience.

Sea cliff climbing

The Welsh coastline in particular the cliffs at Gogarth on Anglesey offers challenging climbs that require confidence, competence and commitment, often with difficult approaches and with no easy escape once on the route.