'Shearwater 'Coastal Cruises
"Shearwater" is a luxury charter cruiser, based in Pwllheli Marina. We conduct scenic coastal cruises of the Llyn Peninsula, visiting offshore islands where we stop by seal and seabird colonies.
We are usually accompanied by resident dolphins.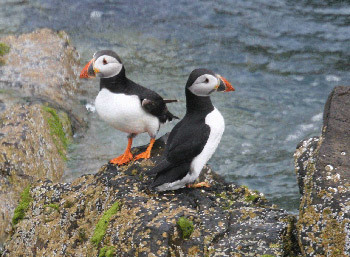 We have a choice of 3 cruises. Our morning cruise departs from Pwllheli at 10 a.m. and returns at 12.30 p.m. Our afternoon cruise departs at 1.30 p.m. and returns at around 5.30 p.m. At the height of summer we also do evening cruises, departing at 6.30 p.m. and returning at dusk.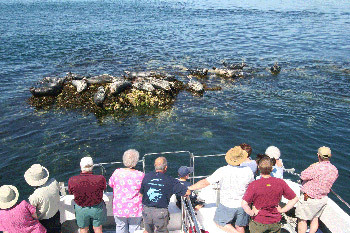 Daily cruise bookings are made by contacting the Pwllheli Tourist Information Centre (01758) 613000. We do undertake private bookings (for the whole boat - 12 passengers maximum which can be negotiated with the owners (see website).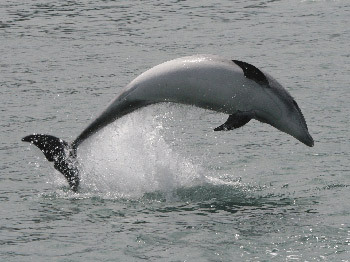 "Shearwater" has seating for all, either outside on the deck or inside the spacious cabin, in case we have a shower of rain. Complimentary tea/coffee is provided on every trip (freshly made in our galley as we sail along). We also have a flush toilet, accessible from the deck. Boarding the boat is done by simply walking onto the stern platform and walking through a stern gate that is level with the marina walkway so there is nothing to climb over. We have experienced no problems boarding wheelchair users and the disabled.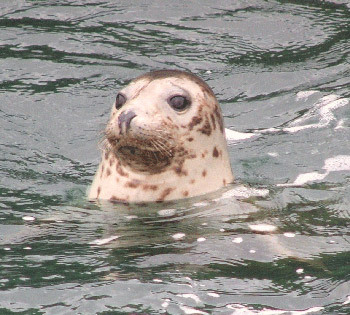 Whilst on our cruises, each time we encounter dolphins, we undertake Photo-Identification work on behalf of the Seawatch Foundation. This organisation is tasked with monitoring dolphins and other cetaceans occurring in UK waters. We take close-up images of the dorsal fin of each dolphin encountered, using powerful telephoto lenses. Each dolphin can be readily identified by the peculiar shape, cuts and scratches on the dorsal fin. We also compete a report on behaviour/location/time and date etc. and at the end of the season, all images and reports are forwarded to "Seawatch". In 2008, we actually 'discovered' 4 dolphins that were previously unknown and did not appear on any database.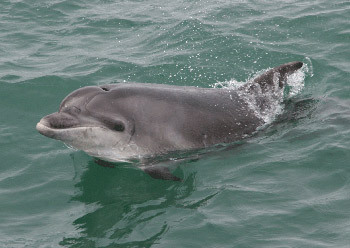 We have been carrying out our cruises since August 2001. Since that time we have built up a regular clientelle who now regard a "Shearwater" trip as an essential part of their holiday to Wales. We are told that the beautiful scenery and spectacular wildlife seen on our cruises is only surpassed by our humour and enthusiasm for what we do!
'Shearwater 'Coastal Cruises Statistics: 1150 click throughs, 11866 views since start of 2022
Multi-Activity Provider,Educational,Water sports

in

Pwllheli

,

Llyn Peninsula
Tariff

Please see our current brochure for details
tbn
tbn
tbn

When?

March to September

Contact Details

'Shearwater 'Coastal Cruises

Manager/ Contact Person: alan Gray

crud-yr-awel, mynytho

Pwllheli

Gwynedd

LL53 7RS

UK.

Our Website

News & Special Offers