Oriel Cemaes
Here at Oriel Cemaes we can cater for all your picture framing requirements, from the budget and contract customer to the standard and museum conservation type, with over 500 mouldings in stock and 200 different colours of mounting board, three different glass.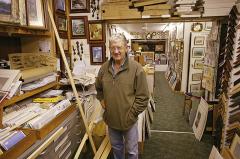 We have a permanent exhibition of original works by popular Anglesey artists, Ieuan Williams, Wilf Roberts, Julie Roberts, Edward Pari Jones, Alan Kirkpatrick, Margaret Hall and Brian Entwistle. Also prints by all the above as well as Audry Hind, Keith Andrew, Philip Snow, Rob Piercy, Kathy Gittins, Annie Williams, Tunnicliffe, Meurig WIlliams, Gwyneth Ryder and many others
Prints by leading British artists include Coulson, Hemmings, Higgs, Gordon King, Dipnall, Shepherd, McIntyre, Stubbs, Ward, AMPERSAND Brett, to name but a few
Also all the popular European artists such as Monet, Dali, Van Gogh, Bellini, Cezanne, Chagall, Gauguin, Klimt, Kandinsky, Matisse, Michaelangelo, Picasso, Da Vinci, Degas, Renoir, Casaro, and Botero
American artists include Remington, Brenders, Disney, Wolfe, Hopper, and Warhol
All categories: Maritime, Military, Wildlife, Floral, Architectural, Film Stars
We also provide a photocopying and fax service and take passport type photographs.
Oriel Cemaes Statistics: 86 click throughs, 6142 views since start of 2022
Attraction in
Cemaes Bay
Isle of Anglesey
Entrance Charge

Opening Times

Oriel Cemaes

5 Strud Fawr

Cemaes Bay

Isle of Anglesey

LL67 0HH

UK

Our Website

News & Special Offers