Rhyl SunCentre
A North Wales experience for any age!
Rides and slides and pools and fun for every member of the family

Loads of seating - Mums & Dads, Grandma & Grandad, make yourself comfortable in the tropical warmth and RELAX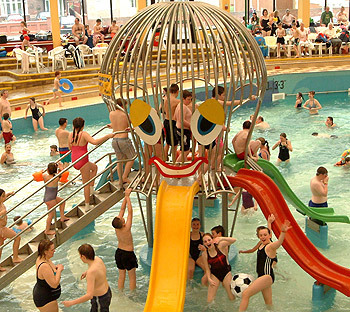 Ride the rapids on a tube and descend over 300 feet on THE BUZZ, dare to ride the 200 foot BLACK HOLE. Watch out - they're scarey!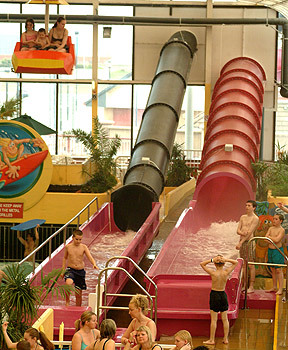 Other favourites include the LAGOON POOL with tropical storms, thunder and lightening; the MONORAILfor a birds eye view of everything; the DRAGON SLIDE, mean and green; SURF POOL, the ultimate experience and much much more. No extra charges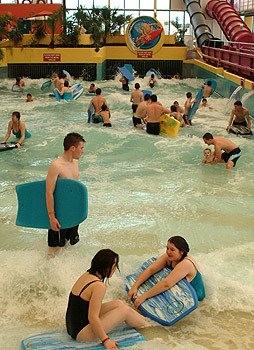 Little ones will be happy to splash in the Baby Pool or paddle next to the blue Elephant and Octopus slides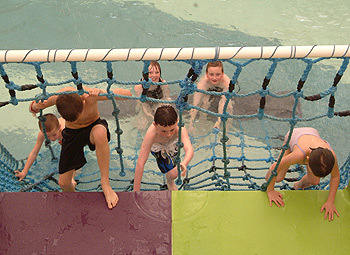 Join the cool dude, Cock Eyed Bob at the Surf Pool! The first indoor surfing pool in Britain. We supply the boards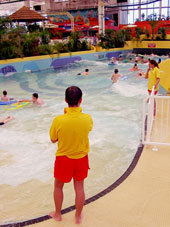 After you've visited the Sun Centre, take a leisurely stroll along the Promenade and visit the Rhyl Sky Tower.

Experience a birds eye view from 240 ft, over the North Wales coast, the Wind Farms and, on a clear day, the Snowdonia Mountains.
Rhyl SunCentre Statistics: 46 click throughs, 11884 views since start of 2022
Attraction in
Rhyl
Denbighshire
Entrance Charge

Daily Admission price £7.95 per person
Children under three years of age – admission free
4 – 9 persons (family / small group discount) - £7.55 per person per person
10 – 49 persons 10% discount - £7.15 per person - 50+ persons - £6.36 per person

Opening Times

For opening dates and times, please check our website

Rhyl SunCentre

East Parade

Rhyl

Denbighshire

LL18 3AQ

UK

Our Website

News & Special Offers

10th & 11th July 2010 – The SunCentre 30th birthday celebrations.

BIG competition; party presents; entertainment and much much more. Watch out for further details on the SunCentre website.


7th & 8th August 2010 – It's Rhyl Air Show. Bring your 'cossy' and join in our late evening opening / Caribbean evening / entertainment. Not to be missed. Watch out for further details on the SunCentre site.



Friday Evening special –

Visitors to the Rhyl SunCentre have been asking us to bring back out Friday Evening Special –

Check out our web site for Friday evening openings – admission price just £3.50 per person!

FRIDAY EVENING ADMISSION - £3.50 per person(check for opening dates)

Season tickets (per person)
£20 per week
£50 per month
£150 per person