Rug Chapel and Llangar Church
Religiously glorious in glorious technicolor
Rug Chapel

Religiously glorious in glorious technicolor. Never judge a chapel, or a church for that matter, by its exterior. Step inside 17th-century Rug Chapel and prepare to be wowed by its decorative flourishes. If you're a fan of minimalism, you may want to take a deep breath before entering.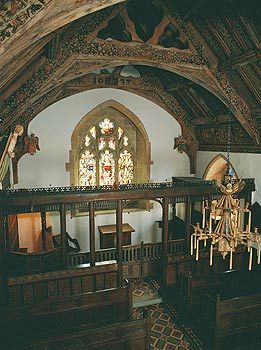 Its founder, the arch-Royalist Colonel William Salesbury, created a private chapel complete with high church pretensions and a zany style to counter Puritanical notions of the time.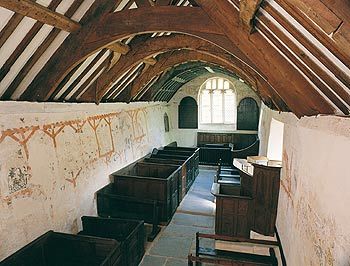 You can never have enough wood carvings or rose motifs. Colonel Salesbury was mad for them, whether it was on the altar rails, family pews, painted gallery or bench ends. A real show-off in wood. It certainly grabbed the attention of Sir Edwin Lutyens. For reference, look up his Viceroy's House in New Delhi, India.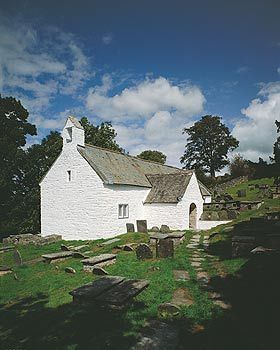 Llangar Church

Llangar Church, a mile or so away, is a few centuries older in construction than Rug. Its whitewashed appearance cloaks a master of disguise. Inside, the 15th-century wall paintings still survive, thanks in part to the church making way for a new place of worship in Cynwyd in the 1850s.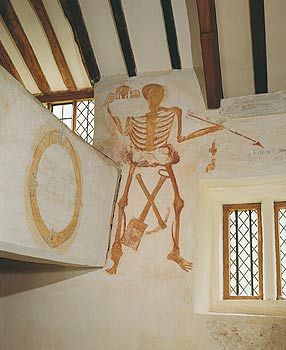 There's also rather gruesomely an 18th-century figure of death on the walls. Who said church was all about fun?
Rug Chapel and Llangar Church Statistics: 5 click throughs, 2832 views since start of 2022
Attraction in
Rug, Nr. Corwen,
Denbighshire
Entrance Charge

Adults £3.60 Reduced Rate £3.20
Family Ticket £10.40 (admits 2 adults & all children under 16)
Children under 5 FREE
Under 16s must be accompanied by an adult. Prices valid until 31st March 2010. Assistance dogs only. No smoking.

Opening Times

Last admission 30 mins before closing. Rug Chapel: 1 Apr-31 Oct 09; Wed-Sun 10am-5pm Llangar Church:1 Apr-31 Oct 09, Wed-Sun 1pm-2.30pm Both sites are closed on Mondays and Tuesdays (except Bank Holiday Mondays). These monuments are closed at all other times.

Rug Chapel and Llangar Church

Rug, Nr. Corwen,

Denbighshire

LL21 9BT

UK

Our Website

News & Special Offers

Ask about free entry if you are 60 and over or 16 and under and live in Wales.