Conwy Honey Fair
@
Local beekeepers sell over a tonne of honey by lunchtime.
An annual event held on the 13th September each year.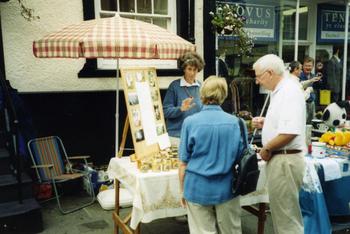 The Conwy Honey Fair in North Wales dates back more than 700 years to the reign of King Edward 1st, when local beekeepers were first given the right to sell honey within the walls of the North Wales town, every September 13th, from midnight to midnight, without charge.
The right to hold the fair is in the town's Royal Charter. Honey was very important even then, and in a list of expenses kept by Edward 1st at Rhuddlan Castle is an item: repairing a cart of the King's, carrying a pipe of honey from Aberconwy, 1s4d.
Records from 1835 report that " large quantities of very excellent honey are sold annually in Conwy". Before 1830, four fairs were held annually in Conwy.

By 1911, this had increased to 10, including butter, wool and horse fairs. Now only two remain: the Seed Fair on March 26th, and the Honey Fair on September 13th.
Nowadays visitors can wander through the stalls, granted free fare by the Royal Charter, and pick out some honeycomb, heather-honey and the famously delicious cloudy Welsh honey, as well as numerous other tempting honey-related produce.

More than a tonne of the locally-produced honey is sold by lunchtime every year!
Conwy Honey Fair - Tickle your Taste Buds !!
Conwy Honey Fair Statistics: 10 click throughs, 5958 views since start of 2022
Conwy Honey Fair is in
Conwy
Entrance Charge

Date and Times

13-Sep-2011 13-Sep-2011

9.00am - 4.00pm

Contact Details

Conwy Honey Fair

News & Special Offers